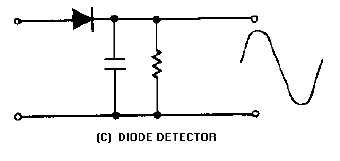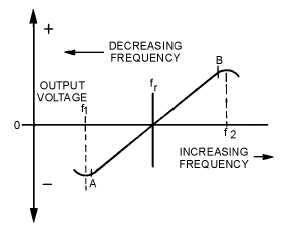 3-12
Figure 3-9C.—Slope detector. DIODE DETECTOR.
Q-21.
What is the simplest form of fm detector?
Q-22.
What is the function of an fm detector?
FOSTER-SEELEY DISCRIMINATOR
The FOSTER-SEELEY DISCRIMINATOR is also known as the PHASE-SHIFT
DISCRIMINATOR. It uses a double-tuned rf transformer to convert frequency variations in the received
fm signal to amplitude variations. These amplitude variations are then rectified and filtered to provide a
dc output voltage. This voltage varies in both amplitude and polarity as the input signal varies in
frequency. A typical discriminator response curve is shown in figure 3-10. The output voltage is 0 when
the input frequency is equal to the carrier frequency (fr). When the input frequency rises above the center
frequency, the output increases in the positive direction. When the input frequency drops below the center
frequency, the output increases in the negative direction.
Figure 3-10.—Discriminator response curve.
The output of the Foster-Seeley discriminator is affected not only by the input frequency, but also to
a certain extent by the input amplitude. Therefore, using limiter stages before the detector is necessary.
Circuit Operation of a Foster-Seeley Discriminator
View (A) of figure 3-11 shows a typical Foster-Seeley discriminator. The collector circuit of the
preceding limiter/amplifier circuit (Q1) is shown. The limiter/amplifier circuit is a special amplifier
circuit which limits the amplitude of the signal. This limiting keeps interfering noise low by removing