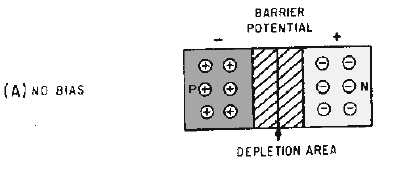 3-2
DIODES
Diodes are two terminal semiconductors of various types that are used in seemingly endless
applications. The operation of normal PN-junction diodes has already been discussed, but there are a
number of diodes with special properties with which you should be familiar. A discussion of all of the
developments in the diode field would be impossible so some of the more commonly used special diodes
have been selected for explanation. These include Zener diodes, tunnel diodes, varactors, silicon
controlled rectifiers (SCR), and TRIACs.
Zener Diodes
When a PN-junction diode is reverse biased, the majority carriers (holes in the P-material and
electrons in the N-material) move away from the junction. The barrier or depletion region becomes wider,
as illustrated in figure 3-1, (view A, view B, view C) and majority carrier current flow becomes very
difficult across the high resistance of the wide depletion region. The presence of minority carriers causes
a small leakage current that remains nearly constant for all reverse voltages up to a certain value. Once
this value has been exceeded, there is a sudden increase in the reverse current. The voltage at which the
sudden increase in current occurs is called the BREAKDOWN VOLTAGE. At breakdown, the reverse
current increases very rapidly with a slight increase in the reverse voltage. Any diode can be reverse
biased to the point of breakdown, but not every diode can safely dissipate the power associated with
breakdown. A Zener diode is a PN junction designed to operate in the reverse-bias breakdown region.
Figure 3-1A.—Effects of bias on the depletion region of a PN junction.
Figure 3-1B.—Effects of bias on the depletion region of a PN junction.