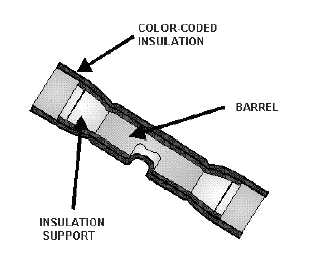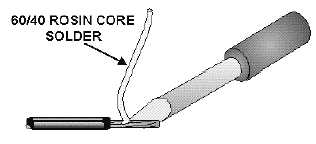 2-49
Soldering

—The basic skills required to solder terminal lugs, splices, and electrical connectors are
covered in this area. Prior to any soldering operation, the items to be soldered must be cleaned; they will
not adhere to dirty, greasy, or oxidized surfaces. The next step is the "tinning" process. This process is
accomplished by coating the material to be soldered with a bright coat of solder. The wire to be soldered
must be stripped to 1/32 inch longer than the depth of the solder cup of the terminal, splice, or connector
to which it is to be soldered. This is to prevent burning the insulation. It also allows the wire to flex at the
stress point. When you tin the wire, it should be done to one-half of the stripped length. When soldering a
connection, take precaution to prevent movement of the parts while the solder is cooling. A "fractured
solder" joint will result if this precaution is not taken.
Soldering Tools

—The important difference in soldering iron sizes is not the temperature (they all
produce 500º
F to 600º
F), but the thermal inertia. Thermal inertia is the ability of soldering tools to
maintain a satisfactory soldering temperature while giving up heat to the joint to be soldered. A well-
designed soldering iron is self-regulating because its heating element increases with the rising
temperature, thus inciting the current to a satisfactory level. When using a soldering gun, do not press the
switch for periods longer than 30 seconds. Doing so will cause the tip to overheat to the point of
incandescence. The nuts or screws that retain the tips on soldering irons and guns tend to loosen because
of the continuous heating and cooling cycles. Therefore, they should be tightened periodically. You
should

never

use a soldering gun on electronics components, such as resistors, capacitors, or transistors.
An advantage of using a resistance soldering iron to solder a wire to a connector is that the soldering tips
are only hot during the brief period of soldering the connection.