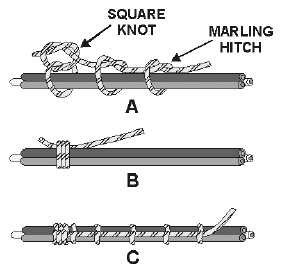 2-39
SINGLE LACE
Single lace can be started with a square knot and at least two marling hitches drawn tightly. Details
of the square knot and marling hitch are shown in figure 2-41. Do not confuse the marling hitch with a
half hitch. In the marling hitch, the end is passed over and under the strand, as shown in view A of the
figure. After forming the marling hitches, draw them tightly against the square knot, as shown in view B.
The lace consists of a series of marling hitches evenly spaced at 1/2-inch to 1-inch intervals along the
length of the group of conductors, as shown in view C of the figure.
Figure 2-41.—Applying single lace.
When dividing conductors to form two or more branches, follow the procedure illustrated in figure
2-42. Bind the conductors with at least six turns between two marling hitches, and continue the lacing
along one of the branches, as shown in view A. Start a new lacing along the other branch. To keep the
bends in place, form them in the conductors before lacing. Always add an extra marling hitch just prior to
a breakout as shown in view B.