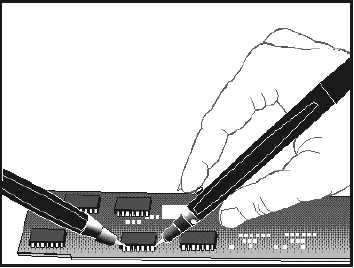 2-32
Figure 2-27B.—Logic pulser.
LOGIC ANALYZER
A relatively new device on the test equipment scene is the logic analyzer. A logic analyzer provides
various functions that can assist you in maintenance, testing, and troubleshooting of equipment using
digital circuitry. From your standpoint, they are extremely useful in performing timing analysis. Most
logic analyzers have crt displays that can monitor up to 32 timing signals at the same time. A large
percentage of today's digital equipment is designed with the logic analyzer in mind and have built-in
status or bus lines for your convenience in monitoring multiple signals at the same time. When
monitoring a bus line, you can readily determine, through visual displays, such things as the presence of
master clock signals or sequential timing events.
BATTERY MEASUREMENTS
As a technician, you are primarily concerned with the

uses

of batteries; however, checking or testing
of storage and dry cell batteries is an important part of your maintenance program. Proper preventive
maintenance of batteries can significantly extend the useful life of a battery.
STORAGE BATTERIES
When you check a lead-acid type of storage battery for its condition of charge or discharge, you take
a specific gravity reading of the electrolyte by using a hydrometer. A specific gravity reading between
1.275 and 1.300 indicates a full-charge condition and assures you that the battery is in good condition. A
hydrometer reading of approximately 1.175 indicates a normal discharge condition, and a reading of
approximately 1.250 indicates that the battery is half-discharged. Since the acids used in various batteries
do not always have the same specific gravity and since electrode composition may differ, the hydrometer
reading you obtain at the charged and discharged conditions will vary with the type of electrolyte and
battery composition. A general rule for you to follow is not to discharge a battery more than 100 points
(.100 specific gravity) before recharging.
Although readings of specific gravity are a reliable measure of the condition of a storage battery,
cells that indicate normal may prove useless under load. This is usually caused by a high internal
resistance. A load-voltage check of the cells with the use of a cell tester indicates the actual voltage