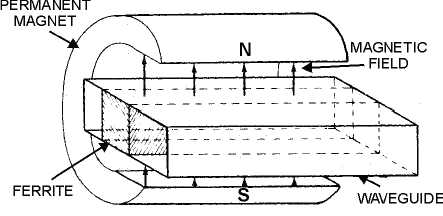 1-60
Since the wobble frequency is the same as the energy frequency, the energy in the waveguide always adds
to the wobble of the electrons. The spin axis of the electron changes direction during the wobble motion
and energy is used. The force causing the increase in wobble is the energy in the waveguide. Thus, the
energy in the waveguide is attenuated by the ferrite and is given off as heat. Energy in the waveguide that
is a different frequency from the wobble frequency of the ferrite is largely unaffected because it does not
increase the amount of electron wobble. The resonant frequency of electron wobble can be varied over a
limited range by changing the strength of the applied magnetic field.
FERRITE ISOLATORS

.—An isolator is a ferrite device that can be constructed so that it allows
microwave energy to pass in one direction but blocks energy in the other direction in a waveguide. This
isolator is constructed by placing a piece of ferrite off-center in a waveguide, as shown in figure 1-75. A
magnetic field is applied by the magnet and adjusted to make the electron wobble frequency of the ferrite
equal to the frequency of the energy traveling down the waveguide. Energy traveling down the waveguide
from left to right will set up a rotating magnetic field that rotates through the ferrite material in the same
direction as the natural wobble of the electrons. The aiding magnetic field increases the wobble of the
ferrite electrons so much that almost all of the energy in the waveguide is absorbed and dissipated as heat.
The magnetic fields caused by energy traveling from right to left rotate in the opposite direction through
the ferrite and have very little effect on the amount of electron wobble. In this case the fields attempt to
push the electrons in the direction opposite the natural wobble and no large movements occur. Since no
overall energy exchange takes place, energy traveling from right to left is affected very little.
Figure 1-75.—One-way isolator.
FERRITE PHASE SHIFTER

.—When microwave energy is passed through a piece of ferrite in a
magnetic field, another effect occurs. If the frequency of the microwave energy is much greater than the
electron wobble frequency, the plane of polarization of the wavefront is rotated. This is known as the
FARADAY ROTATION EFFECT and is illustrated in figure 1-76. A ferrite rod is placed along the axis
of the waveguide, and a magnetic field is set up along the axis by a coil. As a wavefront enters the section
containing the ferrite, it sets up a limited motion in the electrons. The magnetic fields of the wavefront
and the wobbling electrons interact, and the polarization of the wavefront is rotated. The amount of
rotation depends upon the length of the ferrite rod. The direction of rotation depends upon the direction of
the external magnetic field and can be reversed by reversing the field. The direction of rotation will
remain constant, no matter what direction the energy in the waveguide travels, as long as the external
field is not changed.