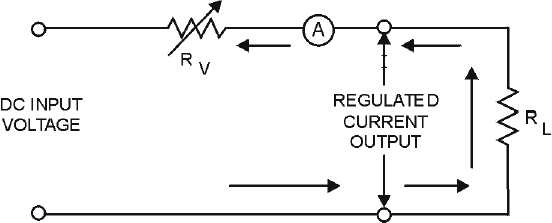 4-44
Q33.
In figure 4-37, the voltage drop across RS and R1 determines the amount of base-emitter ____
for Q1.
Q34.
In figure 4-39, view A, when there is an increase in the input voltage, the forward bias of Q1
increases/decreases

(which one).
Q35.
In view B of figure 4-39, when the load current increases and the output voltage

momentarily
drops, the resistance of Q1

increase/decreases

(which one) to compensate.
Current Regulators
You should now know how voltage regulators work to provide constant output voltages. In some
circuits it may be necessary to regulate the current output. The circuitry which provides a constant current
output is called a constant current regulator or just CURRENT REGULATOR. The schematic shown in
figure 4-40 is a simplified schematic for a current regulator. The variable resistor shown on the schematic
is used to illustrate the concept of current regulation. You should know from your study of voltage
regulators that a variable resistor does not respond quickly enough to compensate for the changes. Notice
that an ammeter has been included in this circuit to indicate that the circuit shown is that of a current
regulator. When the circuit functions properly, the current reading of the ammeter remains constant. In
this case the variable resistor (RV) compensates for changes in the load or dc input voltage. Adequate
current regulation results in the loss of voltage regulation. Studying the schematic shown, you should
recall that any increase in load resistance causes a drop in current. To maintain a constant current flow,
the resistance of RV must be reduced whenever the load resistance increases. This causes the

total
resistance to remain constant. An increase in the input voltage must be compensated for by an increase in
the resistance of RV, thereby maintaining a constant current flow. The operation of a current regulator is
similar to that of a voltage regulator. The basic difference is that one regulates current and the other
regulates voltage.
Figure 4-40.—Current regulator (simplified).
Since use of a variable resistor is not a practical way to control current fluctuation or variation, a
transistor and a Zener diode, together with necessary resistors, are used. Recall that the Zener diode
provides a constant reference voltage. The schematic shown in figure 4-41 is that of a current regulator
circuit. Except for the addition of R1, the circuit shown in the figure is similar to that of a series voltage
regulator. The resistor is connected in series with the load and senses any current changes in the load.
Notice the voltage drop across R1 and the negative voltage polarity applied to the emitter of Q1. The