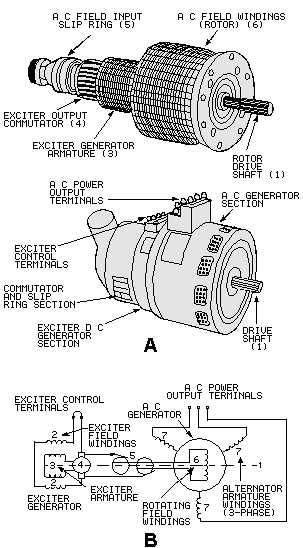 3-5
Figure 3-3.—Ac generator pictorial and schematic drawings.
The exciter is a dc, shunt-wound, self-excited generator. The exciter shunt field (2) creates an area of
intense magnetic flux between its poles. When the exciter armature (3) is rotated in the exciter-field flux,
voltage is induced in the exciter armature windings. The output from the exciter commutator (4) is
connected through brushes and slip rings (5) to the alternator field. Since this is direct current already
converted by the exciter commutator, the current always flows in one direction through the alternator field
(6). Thus, a fixed-polarity magnetic field is maintained at all times in the alternator field windings. When
the alternator field is rotated, its magnetic flux is passed through and across the alternator armature
windings (7).
The armature is wound for a three-phase output, which will be covered later in this chapter.
Remember, a voltage is induced in a conductor if it is stationary and a magnetic field is passed across the
conductor, the same as if the field is stationary and the conductor is moved. The alternating voltage in the
ac generator armature windings is connected through fixed terminals to the ac load.
Q5.

  

Most large alternators have a small dc generator built into them. What is its purpose?