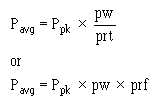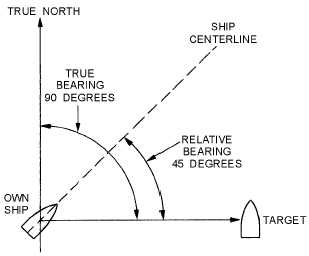 1-41
The product of pw and prf is called the DUTY CYCLE of a radar system and is the ratio of
transmitter time on to time off.
The formula for the peak power (using average power) of a radar system is:
Antenna height and ROTATION SPEED affect radar range. Since high-frequency energy does not
normally bend to follow the curvature of the earth, most radar systems cannot detect targets below the
RADAR HORIZON. The distance to the horizon for a radar system can be determined by the formula:
The slower an antenna rotates, the larger the HITS PER SCAN value. The likelihood that a target
will produce a usable echo is also increased.
The bearing to a target may be referenced to true north or to your own ship. Bearing referenced to
true north is TRUE BEARING and bearing referenced to your ship is RELATIVE BEARING, as shown
in the illustration. The bearing angle is obtained by moving the antenna to the point of maximum signal
return.