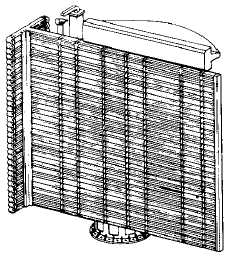 1-36
Figure 1-27.—3D air-search radar.
The range capability of 3D search radar is limited to some extent by an operating frequency that is
higher than that of 2D radar. This disadvantage is partially offset by higher output power and a beam
width that is narrower in both the vertical and horizontal planes.
The 3D radar system transmits several narrow beams to obtain altitude coverage and, for this reason,
compensation for roll and pitch must be provided for shipboard installations to ensure accurate height
information.
Applications of height-finding radars include the following:
Obtaining range, bearing, and altitude data on enemy aircraft and missiles to assist in the control
of CAP aircraft
Detecting low-flying aircraft
Determining range to distant land masses
Tracking aircraft over land
Detecting certain weather phenomena
Tracking weather balloons
Providing precise range, bearing, and height information for fast, accurate initial positioning of
fire-control tracking radars
Q37.

  

Air-search radar is divided into what two basic categories?
Q38.

  

What position data are supplied by 2D search radar?
Q39.

  

Why do 2D air-search radars use relatively low carrier frequencies and low pulse-repetition
rates?
Q40.

  

Why is the range capability of 3D radar usually less than the range of 2D radar?