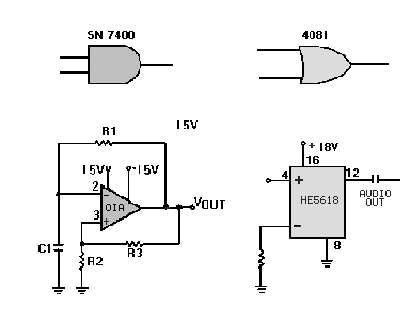 1-29
Figure 1-31.—Lead numbering for a TO-5.
IC IDENTIFICATION
As mentioned earlier, integrated circuits are designed and manufactured for hundreds of different
uses. Logic circuits, clock circuits, amplifiers, television games, transmitters, receivers, and musical
instruments are just a few of these applications.
In schematic drawings, ICs are usually represented by one of the schematic symbols shown in figure
1-32. The IC is identified

according to its use

by the numbers printed on or near the symbol. That series
of numbers and letters is also stamped on the case of the device and can be used along with the data sheet,
as shown in the data sheet in figure 1-33, by circuit designers and maintenance personnel. This data sheet
is provided by the manufacturer. It provides a schematic diagram and describes the type of device, its
electrical characteristics, and typical applications. The data sheet may also show the pin configurations
with all pins labeled. If the pin configurations are not shown, there may be a schematic diagram showing
pin functions. Some data sheets give both pin configurations and schematic diagrams, as shown in figure
1-34. This figure illustrates a manufacturer's data sheet with all of the pin functions shown.
Figure 1-32.—Some schematic symbols for ICs.