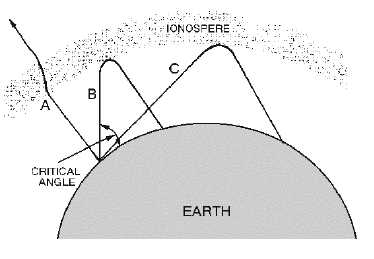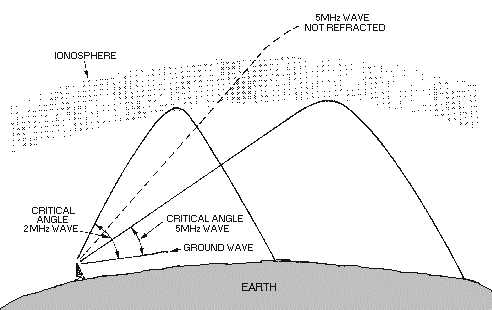 2-23
Figure 2-17.—Different incident angles of radio waves.
As the frequency of the radio wave is increased, the critical angle must be reduced for refraction to
occur. This is illustrated in figure 2-18. The 2-megahertz wave strikes the layer at the critical angle for
that frequency and is refracted back to Earth. Although the 5-megahertz wave (broken line) strikes the
ionosphere at a lesser angle, it nevertheless penetrates the layer and is lost. As the angle is lowered from
the vertical, however, a critical angle for the 5-megahertz wave is reached, and the wave is then refracted
to Earth.
Figure 2-18.—Effects of frequency on the critical angle.
Q20.   What factor determines whether a radio wave is reflected or refracted by the ionosphere?
Q21.   There is a maximum frequency at which vertically transmitted radio waves can be refracted back
to Earth. What is this maximum frequency called?
Q22.   What three main factors determine the amount of refraction in the ionosphere?