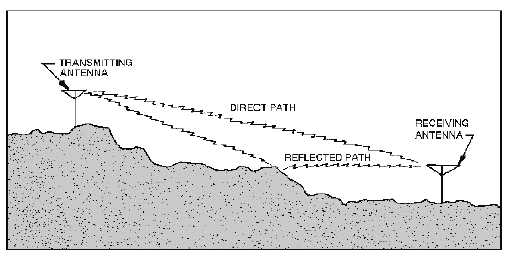 2-18
Figure 2-13.—Space wave propagation.
Although space waves suffer little ground attenuation, they nevertheless are susceptible to fading.
This is because space waves actually follow two paths of different lengths (direct path and ground
reflected path) to the receiving site and, therefore, may arrive in or out of phase. If these two component
waves are received in phase, the result is a reinforced or stronger signal. Likewise, if they are received out
of phase, they tend to cancel one another, which results in a weak or fading signal.
Q13.   What is the determining factor in classifying whether a radio wave is a ground wave or a space
wave?
Q14.   What is the best type of surface or terrain to use for radio wave transmission?
Q15.   What is the primary difference between the radio horizon and the natural horizon?
Q16.   What three factors must be considered in the transmission of a surface wave to reduce
attenuation?
Sky Wave
The sky wave, often called the ionospheric wave, is radiated in an upward direction and returned to
Earth at some distant location because of refraction from the ionosphere. This form of propagation is
relatively unaffected by the Earth's surface and can propagate signals over great distances. Usually the
high frequency (hf) band is used for sky wave propagation. The following in-depth study of the
ionosphere and its effect on sky waves will help you to better understand the nature of sky wave
propagation.
STRUCTURE OF THE IONOSPHERE
As we stated earlier, the ionosphere is the region of the atmosphere that extends from about 30 miles
above the surface of the Earth to about 250 miles. It is appropriately named the ionosphere because it
consists of several layers of electrically charged gas atoms called ions. The ions are formed by a process
called ionization.