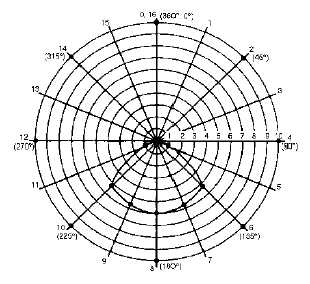 27
Figure 4-A.—Rectangular-coordinate graph.
IN ANSWERING QUESTION 4-29, REFER
TO FIGURE 4-A.
4-29.   How many points on the graph can
represent the value of 7 radiation units at
position 2 of the circle?
1.   One
2.   Two
3.   Three
4.   Four
Figure 4-B.—Polar-coordinate graph.
IN ANSWERING QUESTIONS 4-30 AND
4-31, REFER TO FIGURE 4-B.
4-30.   Compared with the rectangular-
coordinate graph, the polar-coordinate
graph has the advantage of showing
which of the following antenna
characteristics?
1.   Polarization
2.   Radiation pattern
3.   Phase relationship
4.   Gain versus directivity
4-31.   The area enclosed by the radiation
pattern is the
1.   lobe
2.   null
3.   axis
4.   coordinate
4-32.   Inserting an inductor or capacitor in
series with an antenna is one method of
electrically changing the electrical length
of an antenna.  What is this method
called?
1.   Loading
2.   Inserting
3.   Unloading
4.   Decoupling
4-33.   Many complex antennas are constructed
from what basic antenna?
1.   The Marconi antenna
2.   The full-wave antenna
3.   The half-wave antenna
4.   The quarter-wave antenna
4-34.   On an energized half-wave antenna,
which of the following electrical
conditions exist?
1.   Voltage is maximum at the ends
2.   Voltage is minimum at the ends
3.   Current is maximum at the ends
4.   Impedance is minimum at the center