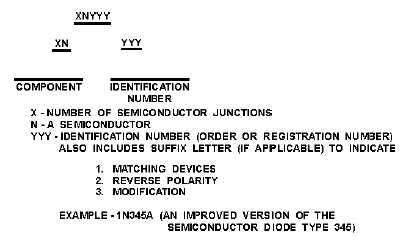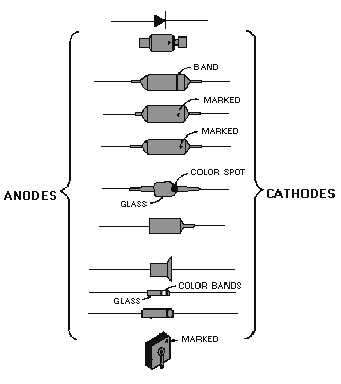 1-30
Figure 1-25.—Semiconductor identification codes.
When working with these different types of diodes, it is also necessary to distinguish one end of the
diode from the other (anode from cathode). For this reason, manufacturers generally code the cathode end
of the diode with a "k," "+," "cath," a color dot or band, or by an unusual shape (raised edge or taper) as
shown in figure 1-26. In some cases, standard color code bands are placed on the cathode end of the
diode. This serves two purposes: (1) it identifies the cathode end of the diode, and (2) it also serves to
identify the diode by number.
Figure 1-26.—Semiconductor diode markings.
The standard diode color code system is shown in figure 1-27. Take, for example, a diode with
brown, orange, and white bands at one terminal and figure out its identification number. With brown