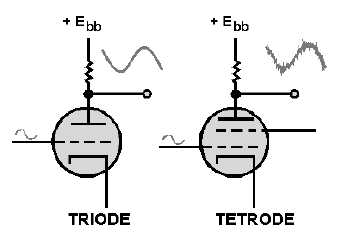 1-54
SECONDARY EMISSION

of electrons from the plate is caused by the acceleration of electrons by
the screen grid. This causes the performance of a tetrode to be degraded. In addition to reduced amplitude,
the output signals become noisy.
PENTODES

do not suffer from the effects of secondary emission. This is because a negatively
charged suppression grid placed between the screen grid and plate forces any electrons emitted back to
the plate.
ANSWERS TO QUESTIONS Q1. THROUGH Q33.
A1.
By heating it.
A2.
Because the negatively charged electrons are attracted to the positively charged plate.
A3.
Filament and plate.
A4.
Negative.
A5.
Positive.
A6.
Pulsating dc.
A7.
Thoriated-tungsten and oxide-coated metals.
A8.
They reach operating temperatures quickly.
A9.
It serves as a mounting for the tube elements and as the terminal connection to the circuit.
A10.
The linear portion.
A11.
Plate resistant Rp.
A12.
Peak Inverse Voltage (PIV).
A13.
The triode contains a third element called the control rid.
A14.
Because it is closer to the cathode.