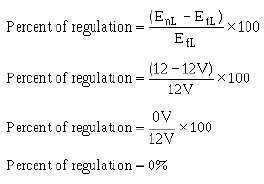 3-36
Thus, zero-percent load regulation is the ideal situation. It means that the output voltage is constant
under all load conditions. While you should strive for zero percent load regulation, in practical circuits
you must settle for something less. Even so, by using a voltage regulator, you can hold the percent of
regulation to a very low value.
If you are interested in reading more on this subject, refer to the

Electronic Installation and
Maintenance Book (EIMB)

series or other similar books from your technical library.
Q32.   What two factors can cause output dc voltage to change?
Q33.   What is the commonly used figure of merit for a power supply?
Q34.   If a power supply produces 20 volts with no load and 15 volts under full load, what is the percent
of regulation?
Q35.   What percent of regulation would be ideal?
REGULATORS
You know that the output of a power supply varies with changes in input voltage and circuit load
current requirements. Because many military electronic equipments require operating voltages and
currents that must remain constant, some form of regulation is necessary. The circuits that maintain power
supply voltage or current outputs within specified limits, or tolerances, are called regulators. They are
designated as dc voltage or dc current regulators, depending on their specific application.
Voltage regulator circuits are additions to basic power supply circuits and are made up of rectifier
and filter sections. The purpose of the voltage regulator is to provide an output voltage with little or no
variation. Regulator circuits sense changes in output voltages and compensate for the changes. Regulators
that maintain voltages within plus or minus (±) 0.1 percent are quite common. The diagram in figure 3-39
clearly illustrates the purpose of the voltage regulator.
Figure 3-39.—Block diagram of a power supply and regulators