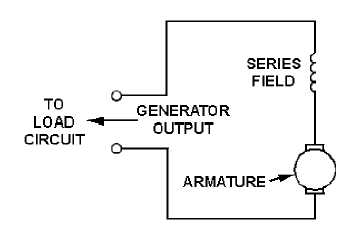 1-16
the field coils causes a small field current. Although small, this field current strengthens the magnetic
field and allows the armature to generate a higher voltage. The higher voltage increases the field strength,
and so on. This process continues until the output voltage reaches the rated output of the generator.
CLASSIFICATION OF GENERATORS
Self-excited generators are classed according to the type of field connection they use. There are three
general types of field connections — SERIES-WOUND, SHUNT-WOUND (parallel), and
COMPOUND-WOUND. Compound-wound generators are further classified as cumulative-compound
and differential-compound. These last two classifications are not discussed in this chapter.
Series-Wound Generator
In the series-wound generator, shown in figure 1-15, the field windings are connected in series with
the armature. Current that flows in the armature flows through the external circuit and through the field
windings. The external circuit connected to the generator is called the load circuit.
Figure 1-15.—Series-wound generator.
A series-wound generator uses very low resistance field coils, which consist of a few turns of large
diameter wire.
The voltage output increases as the load circuit starts drawing more current. Under low-load current
conditions, the current that flows in the load and through the generator is small. Since small current
means that a small magnetic field is set up by the field poles, only a small voltage is induced in the
armature. If the resistance of the load decreases, the load current increases. Under this condition, more
current flows through the field. This increases the magnetic field and increases the output voltage. A
series-wound dc generator has the characteristic that the output voltage varies with load current. This is
undesirable in most applications. For this reason, this type of generator is rarely used in everyday
practice.
The series-wound generator has provided an easy method to introduce you to the subject of self-
excited generators.