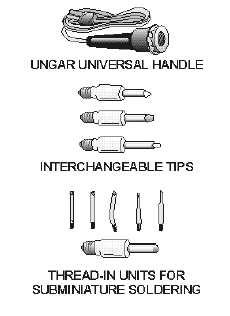 2-32
second pulse of current solders the connection and completes the job. Since the soldering tips are hot only
during the brief period of actual soldering, burning of wire insulation and melting of connector inserts are
greatly reduced.
The greatest difficulty with this device is keeping the probe tips free of rosin and corrosion. A
cleaning block is mounted on the transformer case for this purpose. Some technicians prefer fine
sandpaper for cleaning the double tips.
CAUTION
Do not use steel wool for cleaning tips. It is dangerous when used around
electrical equipment because the strands can fall into the equipment and cause short
circuits.
Q33.   What is an advantage of using a resistance soldering iron when soldering wire to a connector?
Q34.   Why is steel wool NEVER used as an abrasive to clean soldering tools?
Pencil Iron and Special Tips
An almost indispensable item is the pencil-type soldering iron with an assortment of tips (figure 2-
33). Miniature soldering irons have a wattage rating of less than 40 watts. They are easy to use, and are
recommended for soldering small components, such as miniature connectors.
Figure 2-33.—Pencil iron with special tips.
One type of pencil iron is equipped with several different tips that range from one-fourth to one-half
inch in size (diameter) and are of various shapes. This feature makes it adaptable to a variety of jobs.
Unlike most tips that are held in place by setscrews, these tips have threads and screw into the barrel. This
feature provides excellent contact with the heating element, thus improving heat transfer efficiency.
"Antiseize" compound is generally applied to the threads of the tip each time a tip is installed into the
iron. This allows the tip to be easily removed when another is to be inserted.