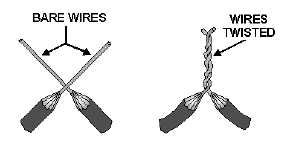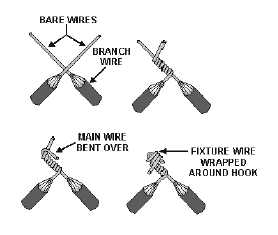 2-7
Rattail Joint
A splice that is used in a junction box and for connecting branch circuits is the rattail joint (figure 2-
7).
Figure 2-7.—Rattail joint.
Wiring that is installed in buildings is usually placed inside long lengths of steel or aluminum pipe
called a conduit. Whenever branch or multiple circuits are needed, junction boxes are used to join the
conduit.
To create a rattail joint, first strip the insulation off the ends of the conductors to be joined. You then
twist the wires to form the rattail effect. This type of splice will not stand much stress.
Fixture Joint
The fixture joint is used to connect a small-diameter wire, such as in a lighting fixture, to a larger
diameter wire used in a branch circuit. Like the rattail joint, the fixture joint will not stand much strain.
Figure 2-8 shows the steps in making a fixture joint. The first step is to remove the insulation and
clean the wires to be joined. After the wires are prepared, the fixture wire is wrapped a few times around
the branch wire. The end of the branch wire is then bent over the completed turns. The remainder of the
bare fixture wire is then wrapped over the bent branch wire. Soldering and taping completes the job.
Figure 2-8.—Fixture joint.