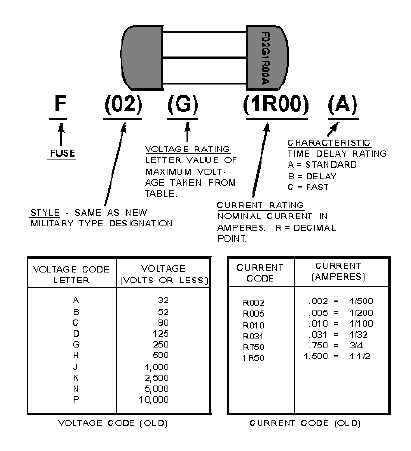 2-10
IDENTIFICATION OF FUSES
Fuses have identifications printed on them. The printing on the fuse will identify the physical size,
the type of fuse, and the fuse ratings. There are four different systems used to identify fuses. The systems
are the old military designation, the new military designation, the old commercial designation, and the
new commercial designation. All four systems are presented here, so you will be able to identify a fuse no
matter which designation is printed on the fuse.
You may have to replace an open fuse that is identified by one system with a good fuse that is
identified by another system. The designation systems are fairly simple to understand and cross-reference
once you are familiar with them.
OLD MILITARY DESIGNATION
Figure 2-8 shows a fuse with the old military designation. The tables in the lower part of the figure
show the voltage and current codes used in this system. The upper portion of the figure is the explanation
of the old military designation. The numbers and letters in parentheses are the coding for the fuse shown
in figure 2-8.
Figure 2-8.—Old type military fuse designation.
The old military designation always starts with "F," which stands for fuse. Next, the set of numbers
(02) indicates the style. Style means the construction and dimensions (size) of the fuse. Following the
style is a letter that represents the voltage rating of the fuse (G). The voltage code table in figure 2-8
shows each voltage rating letter and its meaning in volts. In the example shown, the voltage ratings is G,