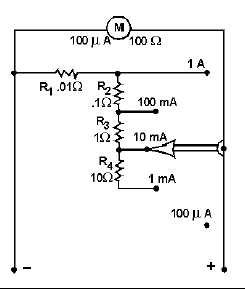 1-61
VOLTMETERS

are used to measure voltage. They are always connected in parallel with the circuit
being measured. A voltmeter should have a high resistance compared to the circuit being measured to
minimize the

loading

effect

. Since the resistance of a meter movement is constant, a voltmeter can be
made from a current-sensitive meter movement by the use of range resistors and an appropriate scale.
Voltmeter sensitivity is expressed in ohms per volt.
An

electrostatic

meter movement reacts to voltage rather than current and is used only for high-
voltage measurements. The following

SAFETY PRECAUTIONS

should be observed when using a
voltmeter.
Always connect a voltmeter in parallel.
Always start with the highest range.
Deenergize and discharge the circuit before connecting or disconnecting the voltmeter.
Never use a dc voltmeter to measure an ac voltage.
On a dc voltmeter, observe the proper polarity.