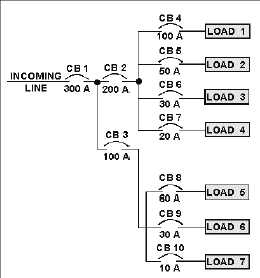 2-39
The

TIME DELAY RATINGS

of circuit breakers are INSTANTANEOUS, SHORT TIME
DELAY, and LONG TIME DELAY.
SELECTIVE TRIPPING

is used to cause the circuit breaker closest to the faulty circuit to trip,
isolating the faulty circuit without affecting other nonfaulty circuits. This is accomplished by using an
instantaneous circuit breaker close to the load, a short time delay circuit breaker at the next junction, and a
long time delay circuit breaker at the main junction box.
The

FACTORS

used to select a circuit breaker are the power requirements of the circuit and the
physical space available.
When

WORKING ON CIRCUIT BREAKERS

, the following items should be done BEFORE
working on the circuit breaker: Check the applicable technical manual, obtain the approval of the
electrical or engineering officer (for shipboard circuit breakers), remove power from the circuit breaker,
and tag the switch that removes power from the circuit breaker. The following items should be checked
and discrepancies corrected when working on circuit breakers: Check the operating mechanism for
smooth operation, check the contacts for pitting, check the terminals for tightness and corrosion, check
the mounting hardware for tightness and wear, check all components for wear, and check the entire circuit
breaker for cleanliness.
ANSWERS TO QUESTIONS Q1. THROUGH Q43.
A1.

  

To protect people and circuits from possible hazardous conditions.
A2.

  

A direct short, excessive current, and excessive heat.
A3.

  

A condition in which some point in the circuit where full system voltage is present comes in
contact with the ground or return side of the circuit.
A4.

  

A condition that is not a direct short but in which circuit current increases beyond the designed
current carrying ability of the circuit.
A5.

  

A condition in which the heat in or around the circuit increases to a higher than normal level