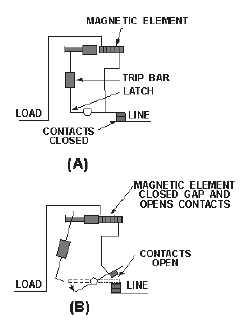 2-24
Figure 2-20.—Magnetic trip element action; Closed contacts;
The amount of current needed to trip the circuit breaker depends on the size of the gap between the
trip bar and the magnetic element. On some circuit breakers, this gap (and therefore the trip current) is
adjustable.
THERMAL-MAGNETIC TRIP ELEMENT
The thermal trip element circuit breaker, like a delay fuse, will protect a circuit against a small
overload that continues for a long time. The larger the overload, the faster the circuit breaker will trip.
The thermal element will also protect the circuit against temperature increases. A magnetic circuit breaker
will trip instantly when the preset current is present. In some applications, both types of protection are
desired. Rather than use two separate circuit breakers, a single trip element combining thermal and
magnetic trip elements is used. A thermal-magnetic trip element is shown in figure 2-21.